Collect and manage all your event's data in total autonomy!
With Eventmaker, your data is aggregated to make it easier to read your results and have a single source of data for your event.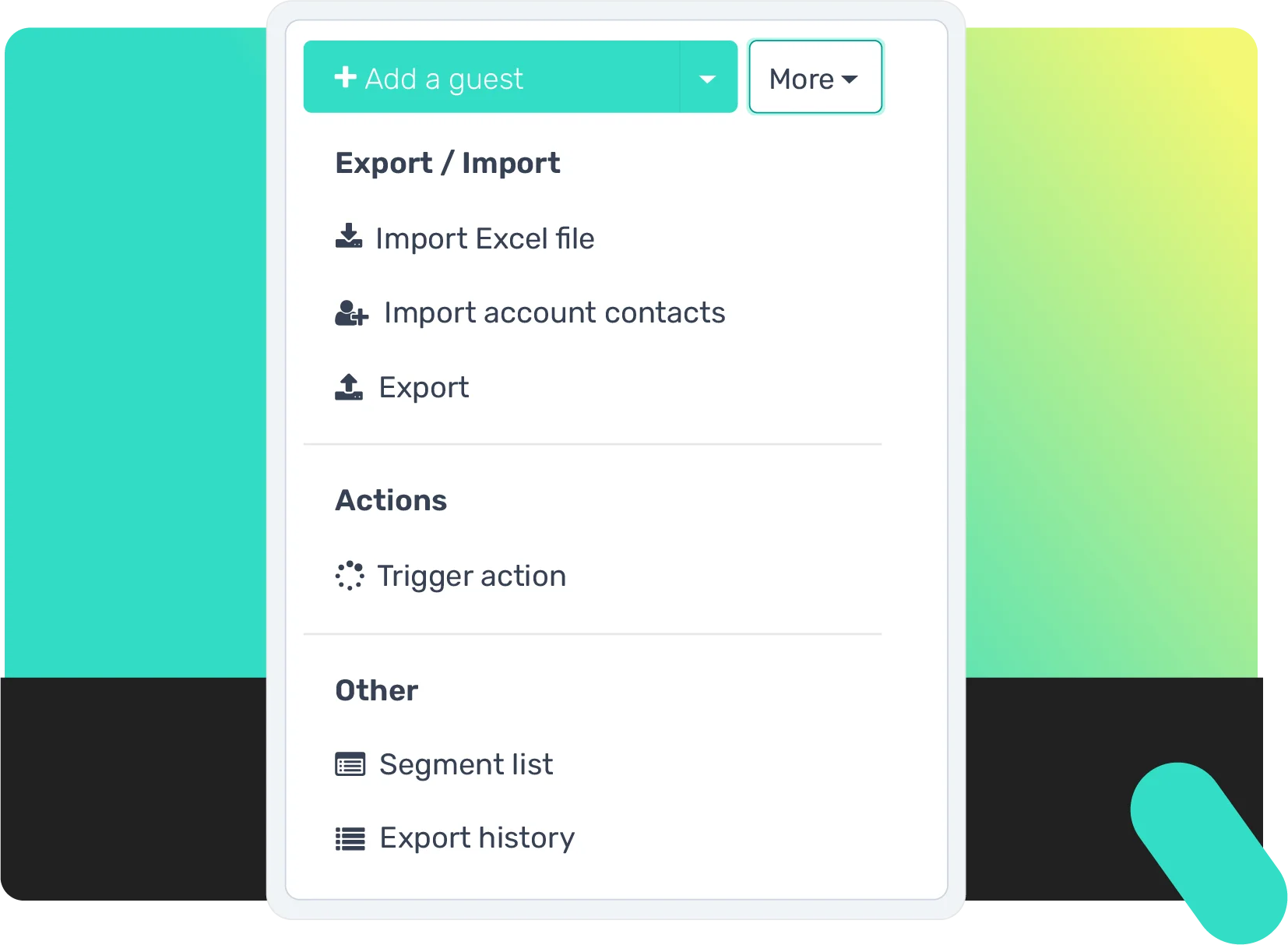 Import and export your data
To create your first databases, you have two choices: set up forms that will automatically complete your list of participants, or choose to import your own databases in a few clicks.
You can export your data at any time (participant lists, badges, participant QR codes or other documents associated with your participants) by choosing the columns to export.
Display and follow up of indicators
The Eventmaker platform allows you to adapt the participant tracking interface according to the indicators that interest you. Build your own customized interface by choosing the columns you want to display.
Thus, depending on your needs, you can uncover and track :
The contact information
The registration categories and status of contacts
The link to the documents (e.g.: Badge)
Or the date of registration, the UTMs, or any special field you create.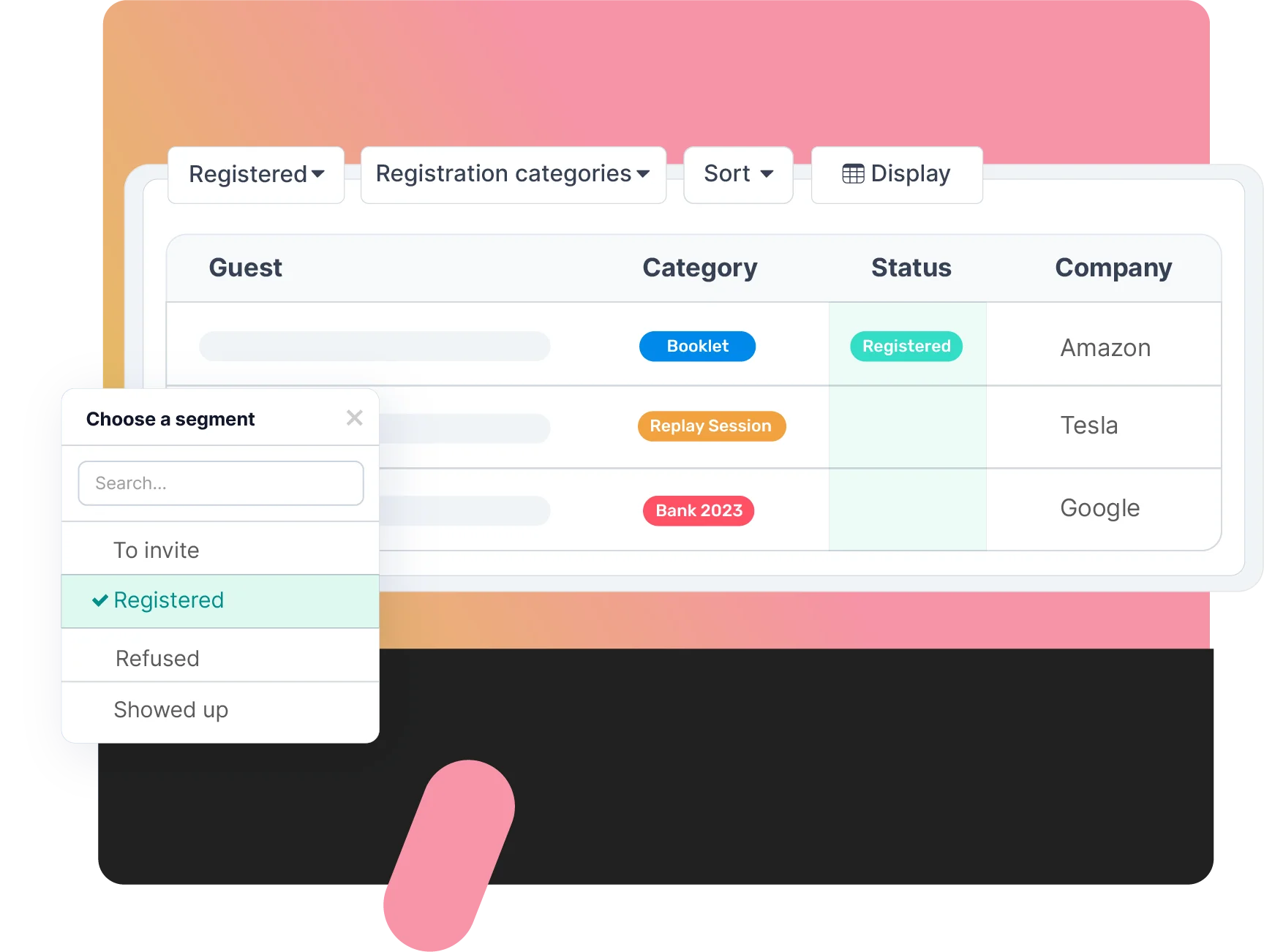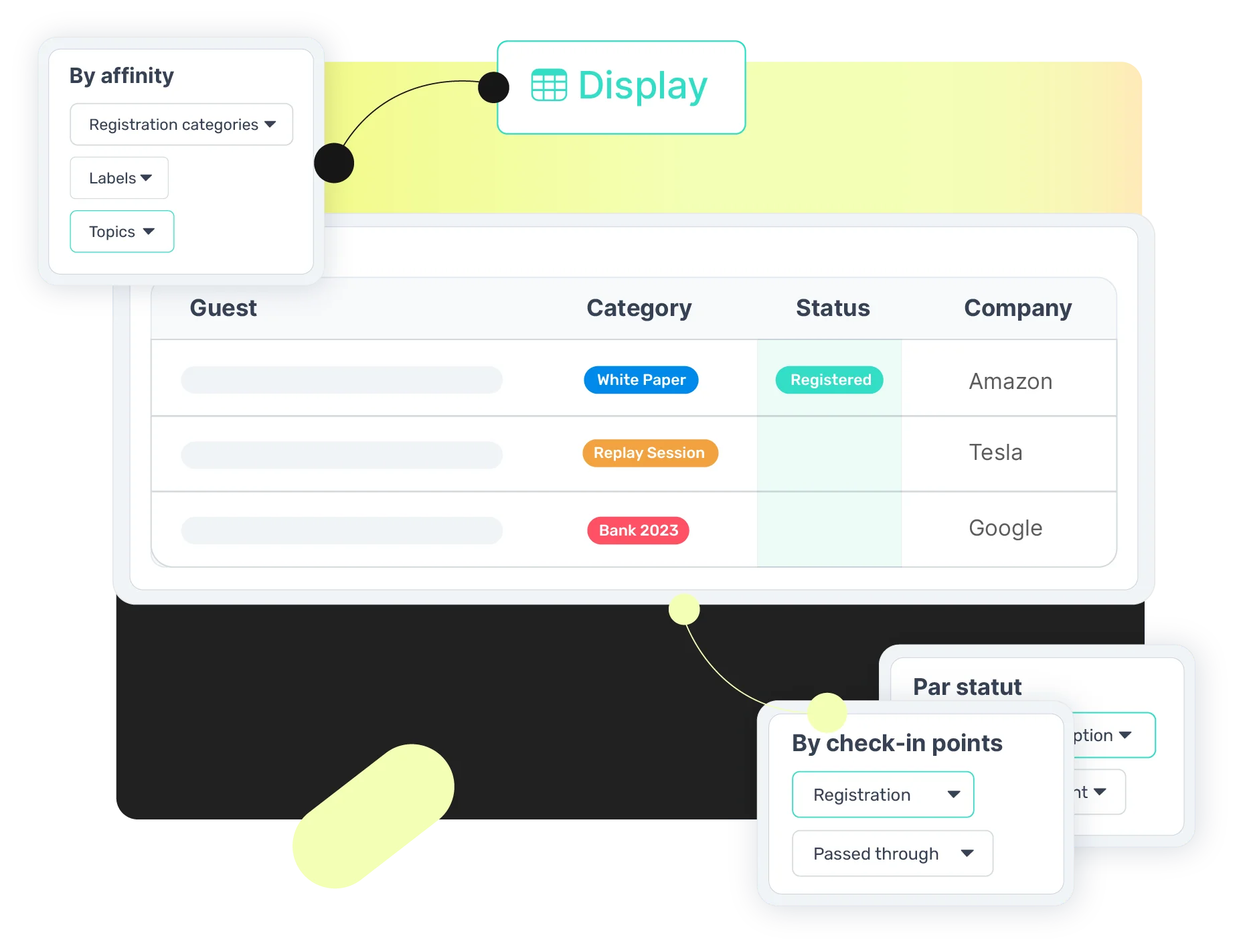 Search and modify your database
Our powerful search tool allows you to find all your participants in your database in an instant.
Simple text search
Find each of your participants via their first or last name. The search is automatic and instantaneous and is performed on the guest's complete file.
Search by registration criteria
If you need to specify your search criteria, use the advanced search which allows you to search by :
Registration category
Registration date
Payment status
Arrival status at your event
Registration or check-in at the various check-in points (conferences, workshops, etc.)
Modifications and reprocessing
Eventmaker also allows you to easily reprocess your registration database, thanks to grouped actions. For example, you can :
Change the category of a list of participants
Change the value of a field to edit the database.




Managing my participant's data
Can I create custom fields?
You can create an unlimited number of custom fields to qualify your forms. There are different types: text, image, file or list of values.
How do I delete my participant's data?
A participant no longer comes to your event? Did you make a mistake when importing your list of participants?
You can delete contacts from your database at any time, either by deleting one person or by deleting several participants at the same time.
You can then find the complete list of deleted participants in your history.
Data retention and GDPR
By default, event data is stored for 30 months in Eventmaker's back office. After that, it is automatically deleted. You can change this rule in your account management.
Of course, each participant can manage his or her data individually whenever he or she wishes: https://app.eventmaker.io/takeout !
Would you like to know more about our features?